The creative full-service studio for outstanding videos
But just in case – we have all of them.
The creative full-service studio for outstanding videos
You do not need lots of tools to make a brilliant video.
Professional
and fully equipped studio
With its 300 square meters, Palma Video Studios is one of the largest and most innovative video studios on the Balearic Islands. Designed and equipped by renowned architects, lighting and sound technicians, the premises are ideally suited for video and audio productions of all kinds.
Individual lighting effects reproduce any mood regardless of the weather, and our large selection of state-of-the-art camera systems up to 4K, lenses with different focal lengths, as well as microphones and recording options – Neumann, Lavallier or RØDE shotgun – make it possible for you to travel light. The large 3m green screen offers the possibility to transform the studio into any imaginable scenery. In addition, the studio is located in the heart of Palma's lively old town. Thanks to the soundproof walls, nothing can be heard of the pulsating everyday life. For social breaks, numerous Spanish bars and restaurants are within walking distance from the Palma Video Studios, and for late-night snacks, the lounge with kitchenette is open 24/7.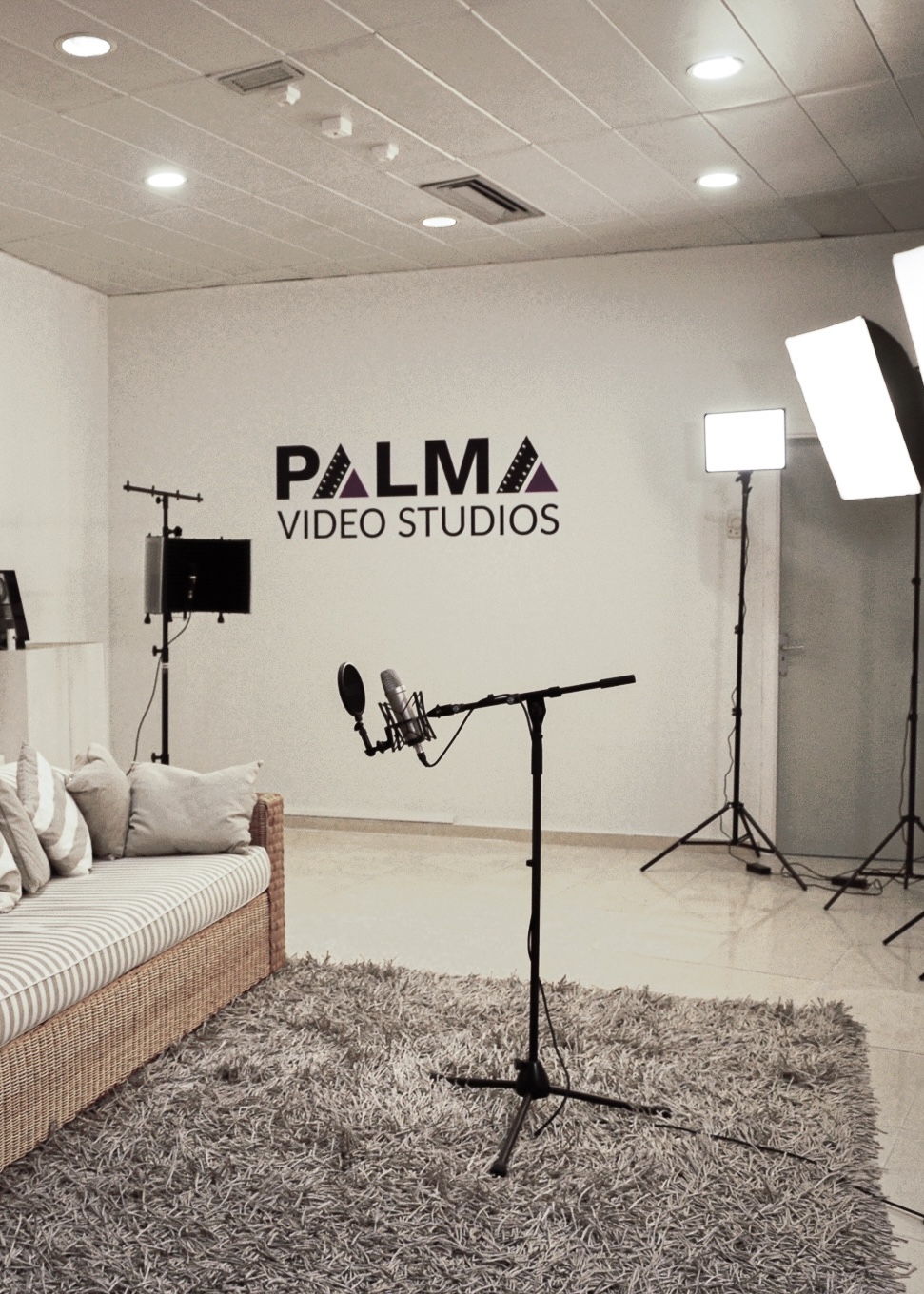 highly skilled professionals in videography
A professional team of trained videographers, producers, media experts, PR professionals, sound technicians, lighting experts and business consultants with many years of experience is at your side from the very first moment – if you wish. We have the right contact person for every video project as well as access to a network from all cinematic creative fields: Directors, editors, presenters, actors, speakers, composers, make-up artists and many more.
Let's talk!
Do you have any questions? We are here for you! Feel free to send us an email or a WhatsApp. The old-fashioned phone call is also welcome: 0034 618 556 062
consulting
We advise you on your project with professionalism, experience and trust
A promotional video needs an original introduction. A coaching video must not wobble. A livestream must be prepared down to the smallest detail. But what exactly is an original introduction? What else do I have to pay attention to? What details are meant? And what is actually involved in a video production?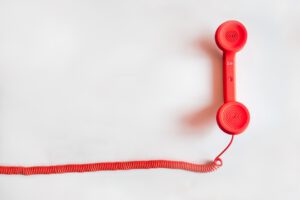 The team at Palma Video Studios is there to help you with precisely these questions. You come to us with an idea, we do the rest. For example: You would like to record a learning video for your employees in the most innovative video studio on Mallorca.
You may have already decided on the content, but what should the backdrop look like? What are the tricks to make you look good in front of the camera? How should you stand? How fast should you talk? What are the tricks to hold the audience? We will gladly give you important tools to make your learning video an exciting session.
It is not only the technical details of recording that are often associated with many questions. We are also happy to help you with content and advice on structure, composition and dramaturgy – because storytelling is one of our strengths! You are welcome to leave the scripting to us. You have little knowledge of post-production?
Let us explain to you the simple steps…
….of common editing programs or hand over the production to our editors. You would like to go live and have no idea how to create a YouTube channel? That's what we're here for – we'll be happy to advise you! Contact us now!
consulting
You already have a specific goal in mind, but don't yet know how to achieve it? With the Palma Video Studios you will find the perfect film project to achieve your goals in the short term and without high costs.
audio-production
If it sounds right
it IS right.
Ambient noise, hissing or popping – too quiet or too loud, too high or too low. The viewer might forgive a wobble in the picture, but not a bad sound.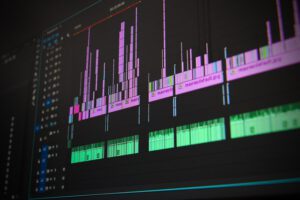 If you rent our innovative video studio on Mallorca, you can also choose between different microphones: Lapel microphones, so-called lavalier microphones, are particularly practical when the actor moves around a lot and needs to keep his hands free, while our Neumann microphones are very suitable for learning videos or coaching sessions thanks to their exceptional sound quality. And so that you don't have to decide which microphone is best for your project, our sound engineers will be happy to help.
In addition, we are happy to help you in post-production, should there be any unwanted noise, or if the voices are too soft or too loud.  And we are happy to assist you with other audio projects:
Not only professional videos are indispensable in content marketing, podcasts are also among the most successful means. We will be happy to advise you and produce and distribute podcast projects together with you.
audio-production
If you want to have a VERY good video, you also have to worry about the sound! We have the right microphones and profs for the recording! Even for your podcast project! Just get in touch with us.
script
Storytelling is the most powerful way to put ideas int the world
The most important part of the video: the script! This is about nothing less than the story, the dramaturgy, the suspense. How do I get the audience from the first second? And how do I get them to stick around for the last one?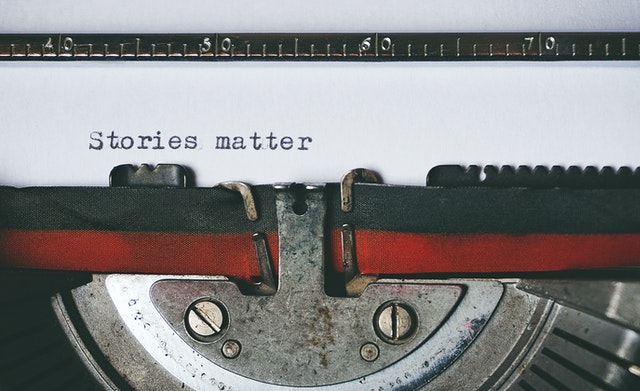 No matter how short the video is – a concise and well-formulated script is the first priority in video production. Not only does it help to get the message across effectively and clearly, it helps to not get off topic, keep the thread and not forget anything. It makes speakers feel more confident, professional and self-assured in front of the camera.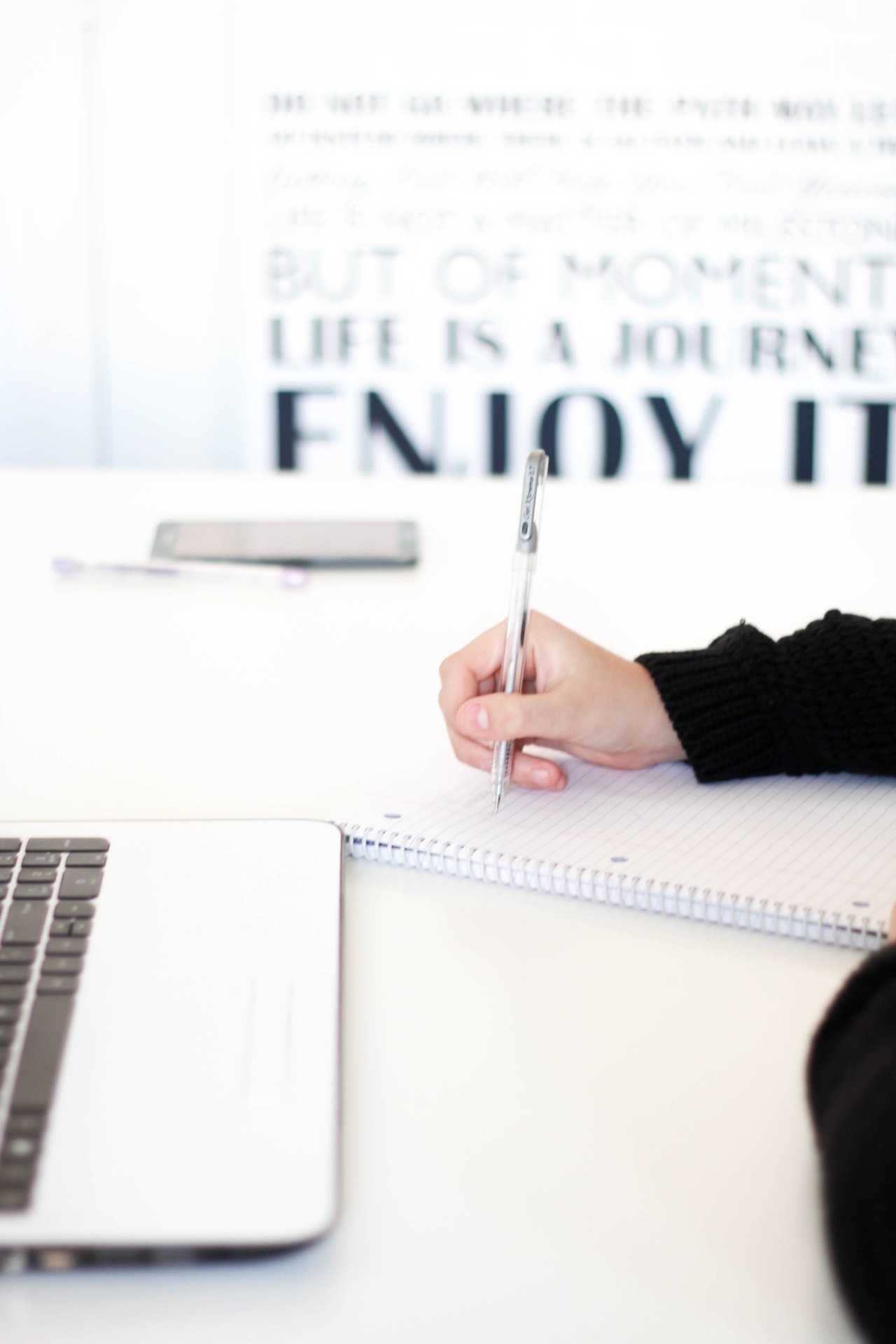 Together with our team of professional copywriters, reporters, presenters and marketing experts, we work together to create a story that fits your vision and engages the audience. Whether it's a fun image campaign, an emotional promotional video or a dry livestream with technical content.
The professional video studio on Mallorca not only has the right premises and the best equipment, we also have a team of professional storytellers.
script
The idea is already there, but the storytelling isn't working out yet? Our team consists of creative journalists, videographers and PR professionals. Together we create a script that turns your idea into a story.
post-production
The success of a production depends on the attention paid to detail.

Whether it's an image film, an educational video or an explanatory video – without post-production, the project is not very promising. As with a wedding cake, it's no use just throwing the ingredients together. The project only becomes a work of art when all the details fit. It's the same with video production: editing, effects, sound, animation – post-production is at least as important in video creation as the recording itself.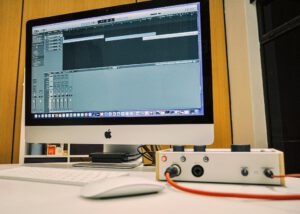 In our innovative video studio on Mallorca, we not only have professional editors and producers at your side, but we are also happy to provide you with our computers with the usual programmes and software, from Final Cut to Premiere or After Effects.
For example, you have the option of speaking in front of our 3-meter green screen, which we then transform into your desired scenario. We cut the clip and edit lighting effects and color settings. If your project is an educational or product video, we create animations that make it possible to make even more complex issues understandable:
Even belly bands, fade-ins of information or other details are possible, there are no limits to creativity in the post-production. Get in touch with us! We will be happy to advise you.
post-production
Editing, effects, sound, animation – post-production is at least as important in video creation as the recording itself. Our professional producers are happy to help or take over completely.
recording
An idea worth thinking
is an idea worth recording
You don't have to be able to do everything. This sentence is especially important in video production! Because: if you are in front of the camera, you often want to be behind it at the same time. But that doesn't work. Every protagonist needs a suitable cameraman! This starts with the right standing. Only the people behind the camera can tell the actor where to stand in order to be ideally in the picture.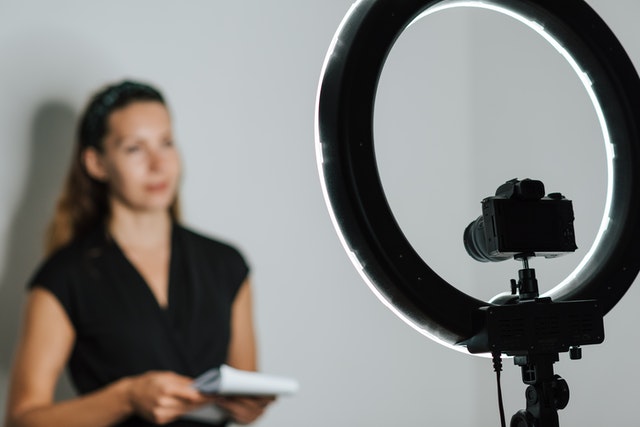 If you rent our professional video studio in Mallorca, you also get the experts! We tell you which posture works best, how you can cleverly control your breathing and give you helpful tips on rhetoric. Especially in recordings in which only one actor is visible, insecurity and nervousness often lead to an increase in the speed of speech or to hands and arms swinging wildly around like an orchestra conductor.
We help you to appear confident and self-assured and ensure that lighting, sound and scenery are perfectly aligned for your production.
recording
You want to be in front of the camera yourself? Then it is our job to make you feel comfortable. Our professional team will coach you in the run-up to your appearance (clothing, hairstyle, posture, etc.) and will also be at your side during the recording.
distribution
Making a product ist just an activity,
making a profit on a product is the achievement.
An image video for social networks, a livestream on Youtube, a coaching session for customers or learning videos for employees – there are all kinds of ways to show the video. Where do you want your video to be seen? And above all: how do you go about it?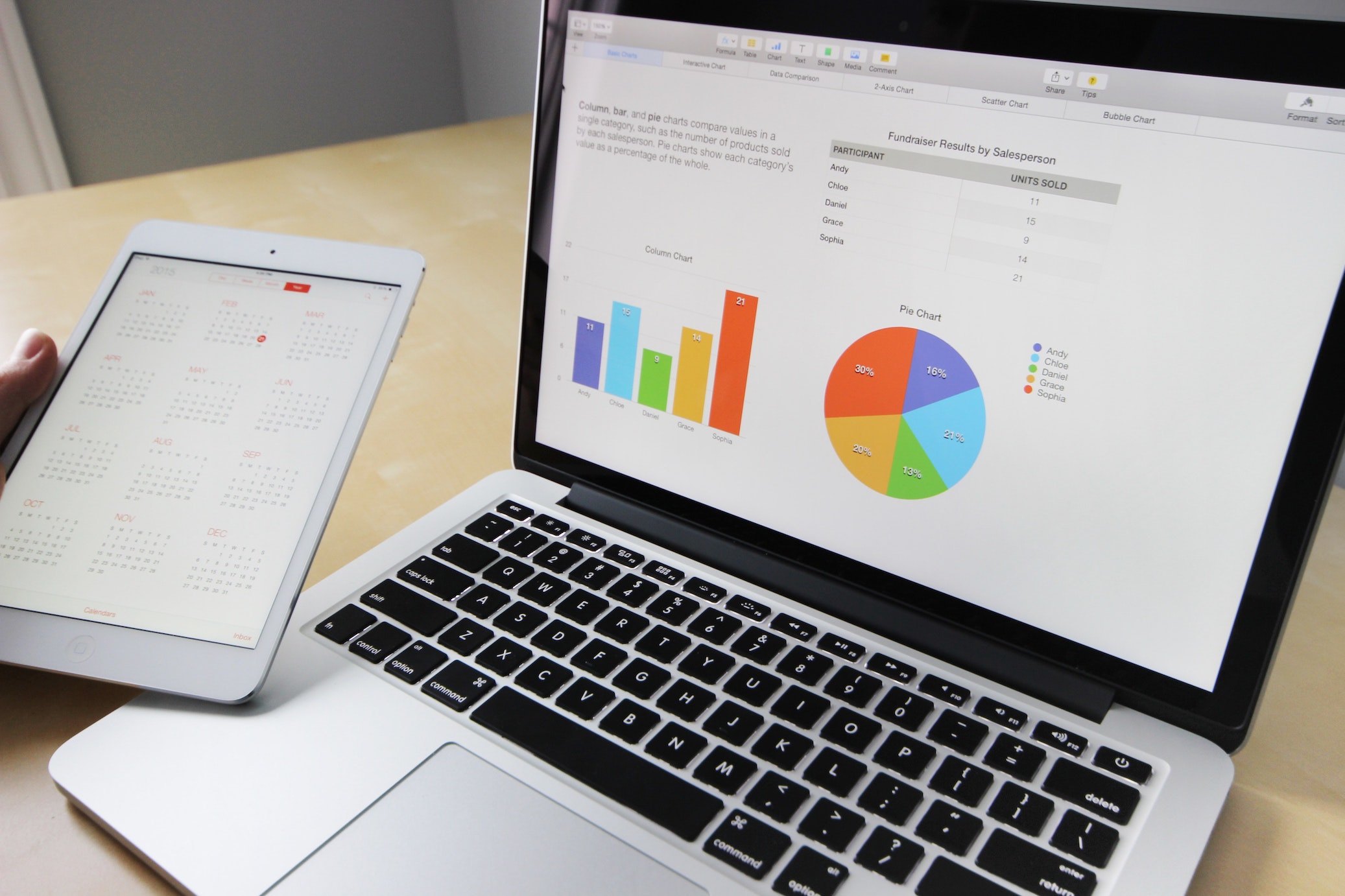 Let's assume you have created an image video. This video should now reach your target group as quickly and effectively as possible. Do you distribute it on Instagram? On LinkedIn? Do you promote it in a Google Ads campaign? Or is it gathering dust on your private Facebook account? Every product, every service, every company is different – marketing is, of course, individual.
Or you are planning a livestream for your customers, a video about new products. Where would you host this livestream? How would you distribute it? With us you not only rent a professional video studio in beautiful Mallorca, we also provide the know-how. We have knowledge of and access to software such as OBS and Wirecast for streaming and know how and where to place video projects in order to reach your target group without much wastage.
distribution
The video is ready, and now? To ensure that your project reaches the right target group, the Palma Video Studios Team show you where and how to distribute the video, podcast or livestream.
Do you have any questions?